As our support toward the refugees of mount Agung, Bali WISE has prepared our campus as a donation post for Nusa Dua area. We are very concerned with this situation and at least 50% of our students come from Karangasem. Wary students keep calling their parents and families to know more about their situations. 
The last time mount Agung erupted in 1963, it took about a year for everything to finally get back to normal and we cannot imagine how will the refugees survive without the help of others.
Several business and caring individuals have donated lots of food supply, towels, blankets and clothes to our campus, which was later distributed to East Bali Poverty Project and Carolia Foundation. We believe East Bali Poverty Project and Carolia Foundation will distribute it to the center where help is needed most.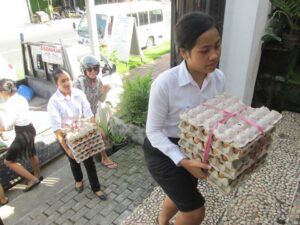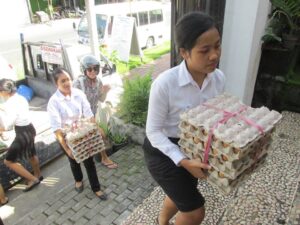 With the help of our hotel partners who join the S.O.A.P. Recycling Program, we distributed lots of recycled soap bars and we are making more every day.
Bali WISE will continue the support and we need your help to bring hope to Karangasem. We need food supply (no instant noodles), un-used clothes, blankets, towels, bed sheets and other stuff. As we stated above, all donated items and money will be distributed by East Bali Poverty Projects and Carolia Foundation. Both foundations are based in Karangasem and up-to-date with the refugees information in the area.