Bali WISE
Empowering marginalized women through skills education, as a means to develop sustainable communities in Indonesia.
Empower a Women | Educate a Family | Builds Sustainable Community
---
Call to Action:
Unskilled women get pregnant earlier and have more children than their educated peers, continuing the poverty cycle and also producing more orphaned children. Unskilled women face gender bias, with most families prioritizing their boys to go to school if they have limited resources.
In many cases, women have no rights to any family assets and go to their husband's villages upon marriage. If they try to separate from their husbands, the original family will not take them back, leaving them with no livelihood.
Unskilled women are open to manipulation, such as prostitution, trafficking, and slave labor.
An unskilled woman will earn around USD 70 per month ($ 2USD /day), compared to approximately USD 200 if skilled in a quality job. (Unskilled men usually earn around double an unskilled women.)
Financially challenged women are expected to give most of their salary back to their poor families, leaving little for their future development and livelihood.
Indonesian women, in particular, are affected by the need to continue with their cultural duties versus the increasing need to contribute financially.
Approximately more than 12 million women are illiterate and unskilled in Indonesia. The private sector still plays a very small role in poverty alleviation, women's health and family planning; only very few businesses assist voluntarily and have sustainability as part of their D.N.A. 
---
Skills, Poverty, WISE Women…
VILLAGE to SKILLS LADDER – Bali WISE gives a 6 months skills education course. This 6 months course is designed to make them employable as entry level staff at a Quality Employer.
Once they are on the bottom rung of the skills latter, they can climb. All recruits must pass an entry exam to make sure they are ready. Would be recruits are assisted to get up to speed and can apply as many times as they wish.
See more…..
BREAK the POVERTY CYCLE – 87.5% of Bali WISE graduates gain Quality Employment, after which they send back up 70% of their income, putting their brothers and sisters through school and college, building the family home, putting quality food on the table, and getting medical help for the parents if needed. These young women are poverty reduction dynamos. See more…
FINANCIALLY CHALLENGED
– Bali WISE's Young Women Students are Recruited from Orphanages, NGOs that put poor children through to the completion of high school, referrals from the Education Department, High Schools of Young Women of Families that have Indonesian Poor Certificate. All would be Recruits are means-tested and verified that they are from a poor family.
See more… 
We are committed to attain the United Nations Sustainable Goals (SDG'S)
Get Involved Take Action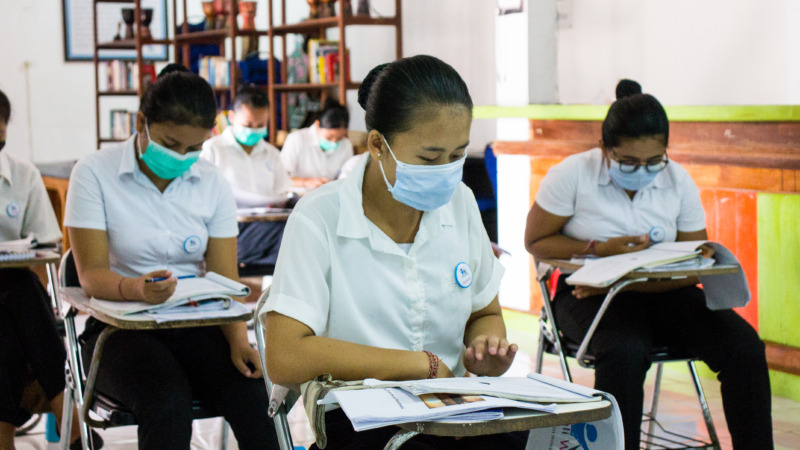 Sponsor our students
Sponsor a whole six-month Skills Education Program for one (or more) Bali WISE student to provide them with the necessary training they need to find quality employment!
Weaving Futures
The Bukit Women's Weavers Association in Bali is an excellent example of a local business that is both green and sustainable.
Explore their beautiful products!
Exchange for Change Tour
 This interactive "Exchange for Change" Tour gives you a cultural exchange while getting to know a few of our fine young women students from a marginalized background.
Our Partners