On Friday, 29th of March 2019, this year's International Women's Day Charity Dinner was hosted by W-Hotel Seminyak Bali and marks yet another successful fundraiser for R.O.L.E. Foundation's Bali WISE program. The attendance and support of more than 150 guests has benefitted the Bali WISE skills education work and has been an outstanding appreciation for the work of inspirational and empowering women.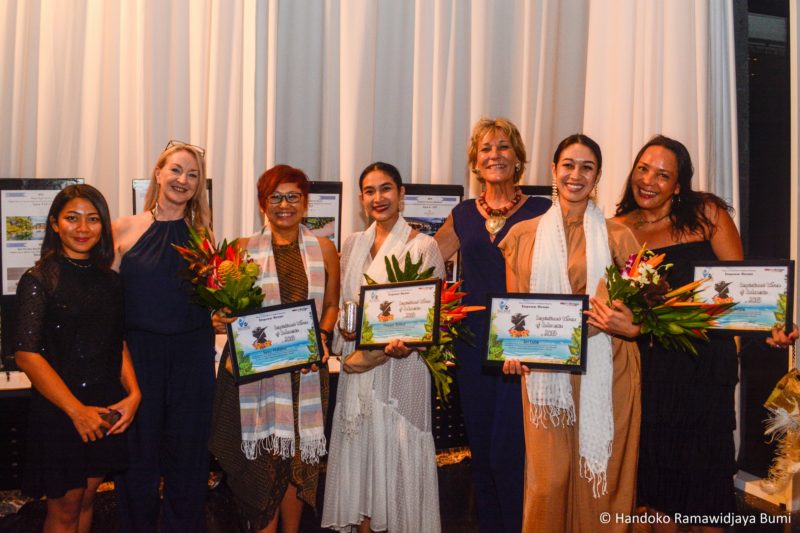 The guests, who all embraced the dress code 'tropical hats', enjoyed a five-star three-course set dinner accompanied by the jazzy live tunes by the remarkable Lisa Soul and the Bali WISE students choir with their touching dance and vocal performances. The guests were guided through the evening by the charming and cheerful one and only MC Alistair G. Speirs, the founder of the renowned NOW! Magazine, who also successfully live auctioned four luxury prizes off to the audience. Throughout the night, a silent and online auction and raffle ensured enough funds were raised to continue the Bali WISE free skills education program for marginalized women from all over Indonesia.
The highlight however was that for the first time in the foundation's history, a great part of the celebration was dedicated solely to award female role models who make a difference. The nominated women were from all walks of life having one thing in common – a strong, outside the box mindset. United at the night of the celebration they created a unique network of incredible women as leaders, entrepreneurs, activists, and environmentalists.
As the evening progressed, nominees from five different categories were awarded on stage by the Australian Consul-General to Bali Dr. Helena Studdert, the Hungarian Ambassador to Indonesia Judit Pach and Lou Westbury from My Red Envelope.
The first category was dedicated to Inspirational Women of the Year and included Sari Pollen, who helps widowed or divorced women who are chastised and marginalized by society; Aisyah Odist who established a private trash bank and is now building the first ECO School for Indonesian children in Lombok; Sri Suyanti, an inspiring teacher at Canggu Community school; Gathi Subekti, the founder of perempuanberarsitektur, a platform which is dedicated to educate people about women in architecture, to let women be acknowledged more by the male-dominated architecture community; Ni Luh Djelantik, the brain behind the award winning Ni Luh Djelantik Shoes, who is at the same time running as a politician acting as a voice for the women of Indonesia; and last but not least the two successful Bali WISE alumnae Ni Kadek Primayani and Miana Dewi.
The second round of awards was all about businesswomen. The category of Indonesian Business Women of the Year was opened by no other than Suzy Hutomo, co-founder and chairwoman of Body Shop Indonesia, self-proclaimed environmentalist whose home is powered by 88 solar panels, green office has a wall made of mushrooms, an eco brick plastic bottle wall and a wooden table made from reclaimed fishing boats; followed by Ria Templar, the leading lady of natural aromatherapy company Utama Spice who took her mother's family social enterprise next level; Tina Ardie, event organizer, publisher of The Yak and a new age boss lady; Sabrina Mustopo, the CEO and co-founder of Kakoa Chocolate, a 100% Indonesian bean-to-bar chocolate brand which sources cocoa beans from smallholder farmers in Sumatra, Sri Luce, the passionate jewelry designer and founder of the Tutola Jewelers Studio; and Happy Salma, the award winning Indonesian actress, model and co-founder of Tutola Jewellery.
Next International Business Women were awarded, starting with Britta Slippens, founder of Blue Ocean Cruises and a modern-day pirate; Luise Henry, successful founder of the label and lifestyle brand Bamboo Blonde; Georgia Sutherland, the women behind the Glo Day Spa empire; and Wendy Thomas, owner of Kevala Ceramic whose business is centered around the unrivalled talent of local artisans.
The fourth category was devoted to Humanitarian Women, namely Alison Chester, founder of Jodie O'Shea Orphanage who dedicates her life to the most vulnerable children of Bali; Lucienne Anhar, co-owner and managing director of Tugu Hotels & Restaurants Indonesia who has been an amazing figure in the help for the aftermaths of the Lombok earthquakes in 2018; Bidan Niluh Budi Astuti, as clinic manager at Bumi Sehat and later head midwife at Rumah Sehat Madani she is teaching young midwifes how to save the lives of mothers and babies in Bali; Rucina Ballinger, as CEO of Yayasan Kemanusiaan Ibu Pertiwi foundation, she has committed herself to putting the children of the 2002 Bali bombing victims through university, Rucina also established Sushrusa, the only preschool for the hearing impaired on Bali, as well as the Kembali Scholarship program which puts nearly 500 children through school who would otherwise have dropped out; Barbara Suriada, co-founder of sustainably operated guest hotel, Darmada Bali and of the company Sadus Tiles which creates fair and well paid jobs for local communities; and last but not least Gaye Warren, a two times breast cancer survivor who established the non-profit Pink Ribbon organization raising awareness about cancer in Bali and providing free health educational seminars.
The fifth category awarded women who are passionately fighting for the environment such as Rili Djohani, a passionate tropical marine ecologist, founder of the Coral Triangle Center who has worked for over 20 years to improve marine protected areas and reduce the use of unsustainable fishing practices; Paola Cannucciari, Environmental and Conservation consultant and part of ecoBali, actively promoting Zero Waste practices; Pariama Hutasoit, director of Nusa Dua Reef Foundation, that works towards coral reef rehabilitation in Bali; and Rima Agustina, who served as the Education and Community Development Manager at the Begawan Foundation that focused on breeding the critically endangered Bali Starling in the wild while now program manager at Green books, a non-profit organisation dedicated to promoting eco-education around Indonesia.
Last but not least there was a special award for Janice Girardi who pours her heart into animal welfare as the founder and director of BAWA (Bali Animal Welfare Association). BAWA's work includes 24/7 emergency rescue and treatment for animals in distress and offers services like adoption and vaccinations as a non-profit. With BAWA, Janice also campaigns for animal rights and effective animal welfare laws and do awareness campaigns, especially at schools, where children are taught a responsible and compassionate handling of animals.
With this year's International Women's Day Celebration at the W-Hotel in Seminyak, Bali WISE has successfully gathered together and joined forces with a great number of inspirational women that all contribute to making the Island and its communities a better place. It was undoubtedly a night to remember!