Meet Mita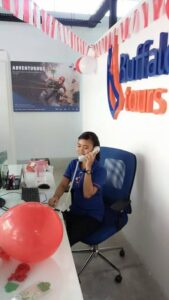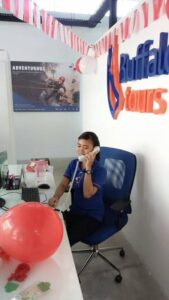 Mita is the oldest daughter, she has 3 siblings. She was born in a family with economic struggle. Her father is a driver and her mother is a housewife. After graduated from secondary school (SMP), her parent could not afford her high school tuition. But luckily, Mita got supported from the government. She got a scholarship for competent student (BIDIKMISI: Biaya Pendidikan Siswa Miskin Berprestasi), because she always reach good grade in school. After graduated from IT Vocational High School, Mita worked as Sales Promotion Girl at a super market in Kuta with salary a of IDR 1.6000.000 per month. Mita really wants to continues her study, she wants to go to university but it is a bit hard for her parent to support her. In the other hand, she does not want to stuck with the same job and salary forever. Ni Kadek Sutarmi, Mita's mother, felt worried after her daughter graduated from high school and didn't continue her study. Like every other mother, she also wants her daughter to have good educations and skills, but she still has three children who need support for their school as well. So she could not send Mita to university. Mitha found out about Bali WISE program from her cousin. Her parent gave her full support, because they want their daughter to have a good career and a better future.
With her father, Mita came to Bali WISE and she started the Bali WISE's Skills Education program on October 2015. After completing her Basic class, Mita went on to her next three months vocational training. Mita got wonderful opportunity to study and practice at Amanusa Resort & Villa, as a waitress. During her course at Bali WISE, Mita learned many things: hospitality, self-development, and to socialize with new and current people. "I Felt grateful when Mita want to join Bali WISE, because Mita can learn more, which means there is an opportunity for Mita to be successful in the future.", her mother said.
After Mita graduated from Bali WISE, two companies offered her a bright opportunity: work as Waitress at Potato Head and Receptionist Admin at
Buffalo Tours. Mita decided to work as Receptionist Admin at Buffalo Tours. Mita work really well and very discipline, and her management acknowledged that. Now Mita's can support her family to pay her sibling school tuition. According to Sutarmi, Mita changed a lot, in a better way after joined Bali WISE. Before, Mita is an introvert, but now she is an easy-going person, she can socialize with anyone. "Thanks to Bali WISE for helping my family, to educated my daughter" Sutarmi added.
"Never give up because everything is possible" is Mita's motto that make her always fight to survive in every battle of her life.